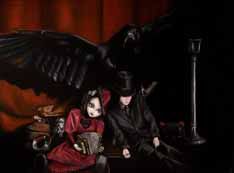 Hi!
This is my first post here. I thought some of you may be interested in this (Disclaimer: If you are not interested please do not look at it and don't feel the need to flame me - mods: please remove this if neccessary).
I am an artist [ http://www.emmatooth.co.uk ] and I am now offering signed prints of some of my most popular oil paintings including one by popular demand of Dolls. More info here: http://artists-in-residence.com/emma/news.html I hope you enjoy it!
x-posted all over the shop!
Thanks!